Buy A Case Of Six Wines & Get Free Delivery!
Add 6 more bottles for FREE shipping!
Your case: 0/6 Bottles | Add 6 more bottles for FREE shipping!


Roll over image to zoom in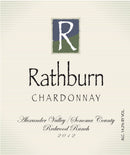 Description
2012 Alexander Valley Chardonnay:  This is a well-balanced Chardonnay with medium acidity and a smooth finish.  It has a great mouthfeel.  This would pair well with pan-seared scallops in duck fat with lime ginger butter and creamy risotto.  It would also pair well with a grilled cheese sandwich or your favorite popcorn.
Rathburn Wines
All of Rathburn Wines Chardonnay is sourced from Redwood Ranch & Vineyards.  Redwood Ranch is located in the Southern end of Alexander Valley in Sonoma County, California. The Redwood Ranch has produced high quality grapes for over five decades. 
Discover More