Buy A Case Of Six Wines & Get Free Delivery!
Add 6 more bottles for FREE shipping!
Your case: 0/6 Bottles | Add 6 more bottles for FREE shipping!


Roll over image to zoom in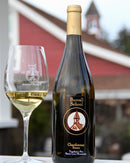 Description
"Teacher's Pet" Chardonnay 2018
Vineyard Information: Our estate vines are situated on a sloping south-west exposure at a 1,560-foot elevation in the cool-climate Santa Cruz Mountains. Located well above the fog line of Monterey Bay, the vines enjoy a long growing season marked by warm days and cool mountain nights.
Tasting Characteristics: Here's Dave's latest Estate-grown Chardonnay. Lovely lemony-straw color in the glass opens up to a nose of toast and lemon custard, pears, and pineapple. This is a zesty Chardonnay with juicy flavors of grapefruit, almonds, honey tangelo, and golden delicious apple. The lively acidity begs to be enjoyed with an equally lively fare. We vote for freshly shucked oysters.
Best enjoyed now thru 2023
Burrell School Vineyards & Winery
David and Anne Moulton began the development of the Estate vineyard in 1973 repurposing the old Burrell Schoolhouse into a beautiful vineyard and winery nearby Monterey Bay. The bay brings in warm days and cool nights allowing for the perfect long, slow ripening of cool-climate grapes that produce distinctive, concentrated wines reflective of their mountain home.
Discover More