Buy A Case Of Six Wines & Get Free Delivery!
Add 6 more bottles for FREE shipping!
Your case: 0/6 Bottles | Add 6 more bottles for FREE shipping!


Roll over image to zoom in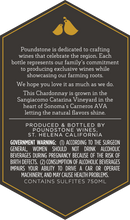 Description
Poundstone Sangiacomo Chardonnay 2016
Tasting Notes: This Chardonnay has floral aromas accented by citrus, pineapple, pear, and vanilla. This wine has vibrant acidity and freshness of the palate. The wine is bright, and the flavors of pear, apple, vanilla, and honeysuckle show the complexity of this wine. This wine is balanced, and its flavors leave a lasting impression on the palate.
Vintage-specific ratings: Wine Enthusiast 90pts, Fleshy, focused and bright, this wine also offers plenty of full-bodied richness and full flavor—a meaty take on baked apple, pear and a savory twist of olive." - VIRGINIE BOONE
Poundstone Wines
Poundstone is a family owned and operated winery producing award winning wines from the Carneros region of Sonoma and Napa Valley. We specialize in small batch Pinot Noir and Chardonnay. Working with top growers including the Sangiacomo family, ensures our grapes are grown using sustainable farming practices, contributing to the value and quality of our wines.
Discover More