Buy A Case Of Six Wines & Get Free Delivery!
Add 6 more bottles for FREE shipping!
Your case: 0/6 Bottles | Add 6 more bottles for FREE shipping!


Roll over image to zoom in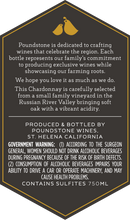 Description
Poundstone Russian River Valley Chardonnay 2016
Tasting Notes: This Chardonnay has flavors of pear, apple, honey, vanilla, cinnamon spice, and ripe melon. The richly textured palate and complexity of the wine lead to a well rounded, balanced finish.
Vintage-specific ratings: Wine Enthusiast 90pts "Intensely steely, this wine offers a length and breadth of full-bodied ripeness that takes form in broad layers of honey, pear and lemon chiffon. Structured, it's richly concentrated with a lingering hit of toasted oak."- VIRGINIE BOONE
Poundstone Wines
Poundstone is a family owned and operated winery producing award winning wines from the Carneros region of Sonoma and Napa Valley. We specialize in small batch Pinot Noir and Chardonnay. Working with top growers including the Sangiacomo family, ensures our grapes are grown using sustainable farming practices, contributing to the value and quality of our wines.
Discover More