Buy A Case Of Six Wines & Get Free Delivery!
Add 6 more bottles for FREE shipping!
Your case: 0/6 Bottles | Add 6 more bottles for FREE shipping!

Roll over image to zoom in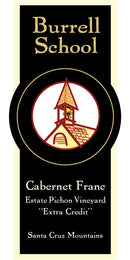 Description
"Extra Credit" Cabernet Franc 2017
ABV: 14.3% 


Vineyard Information: We used the Estate Pichon Vineyard for our Santa Cruz Mountains Cabernet Franc, located on the slopes of Mount Umunhum above Lexington Reservoir.
Tasting Characteristics: This is the twelfth Estate Pichon vineyard Cabernet Franc, an elegant and balanced beauty. Aromas of green tea and tobacco accompany a dusty raspberry nose. Flavors of big raspberry and blackberry lead to notes of cedar and sassafras. This is a wine with a smooth, velvety personality and a long, lingering finish.
Best enjoyed now thru 2031
Burrell School Vineyards & Winery
David and Anne Moulton began the development of the Estate vineyard in 1973 repurposing the old Burrell Schoolhouse into a beautiful vineyard and winery nearby Monterey Bay. The bay brings in warm days and cool nights allowing for the perfect long, slow ripening of cool-climate grapes that produce distinctive, concentrated wines reflective of their mountain home.
Discover More