Buy A Case Of Six Wines & Get Free Delivery!
Add 6 more bottles for FREE shipping!
Your case: 0/6 Bottles | Add 6 more bottles for FREE shipping!


Roll over image to zoom in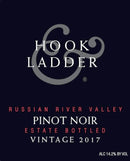 Description
HOOK & LADDER RUSSIAN RIVER VALLEY PINOT NOIR 2017
THE VINEYARDS: Cecil De Loach planted these delicate Pinot Noir vineyards in 1973 in the Russian River Valley. Located on the plains and gently rolling hills off Olivet road in western Santa Rosa, this area provides an excellent medium for the coastal fog that blankets our fruit in the mornings and evenings. The cooling moisture facilitates a longer growing season in which Pinot Noir thrives.
THE GROWING SEASON: Coming off one of the wettest winters on record, the 2017 growing season soon normalized with bud break occurring later than that of the drought years. Throughout summer we saw numerous heat waves that sped the maturation of the vines while a cooler August allowed this pinot noir to ripen more slowly and evenly leading up to the pick.
THE WINEMAKING: We use old-world techniques, whole berries, and whole clusters to make our Pinot Noir in small batches that we "punch down" up to three times a day. After native yeast fermentation, the wine is aged in French oak barrels for up to 8 months to achieve optimum balance and complexity.
THE WINE: Our Pinot Noir displays a beautiful shimmering garnet color, followed by aromas of almond-vanilla and fresh strawberry. A layered palette of full ripe flavors consisting of luxardo cherries, brown sugar, and sandalwood with a dark chocolate drying finish that lingers. This is a beautiful, delicate Pinot Noir that will age nicely.
HARVESTED: August 29 - September 8th
ALCOHOL: 14.2%
TA: .61
pH: 3.62
CASES PRODUCED: 3,677
AGING: 8 months in 100% French Oak, 20% New Oak
ESTATE BOTTLED: June 7, 2018
WINEMAKER: Jason De Loach
Hook & Ladder Winery
Hook & Ladder Winery continues the legacy of one of Russian River Valley's most influential wine families. Founded in 2003 by pioneering growers and vintners Cecil and Christine De Loach, and helmed today by their grandson, winemaker Jason De Loach, Hook & Ladder showcases the diversity of the appellation the family helped to define, in a portfolio of limited-production bottling's from their Russian River Valley estate vineyards
Discover More