Buy A Case Of Six Wines & Get Free Delivery!
Add 6 more bottles for FREE shipping!
Your case: 0/6 Bottles | Add 6 more bottles for FREE shipping!
Roll over image to zoom in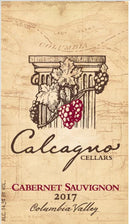 Description
Calcagno Cellars Rattlesnake Hill Cabernet Sauvignon 2017
A decadent blend of 65% Sheridan Vineyard fruit and 35% Two Blondes Vineyard fruit both from the Rattlesnake Hills AVA in Yakima. Rich black currant and subtle tobacco combine with red berries to form opulence and structure. Aged 22 months in 70% new hybrid French & American oak. Decant to drink now or cellar through 2037.
Calcagno Cellars
Our passion is creating boutique wines that reflect the romance of New World terroir, Old World tradition, and the heritage of our Italian family. Esteemed Winemaker Rolando Herrera shepherds authentic methods using the finest Pacific Northwest grapes in crafting our limited release artisan wine. Our family farming culture has grown a rich tradition of responsibility, even before modern sustainability was the trend. With gratitude, we share this union of old and new and invite you to our table to enjoy a wine experience with us. We're confident you'll agree, Every Sip is Special. Saluté!
Discover More