Buy A Case Of Six Wines & Get Free Delivery!
Add 6 more bottles for FREE shipping!
Your case: 0/6 Bottles | Add 6 more bottles for FREE shipping!


Roll over image to zoom in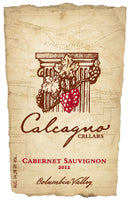 Description
Calcagno Cellars Columbia Valley
 Cabernet Sauvignon 2012
LIBRARY RELEASE!
The evolution of our flagship wine does not disappoint with time. Smooth, round tannins, hints of cocoa, dark fruit, crème, coffee, and vanilla.
Aged 22 months in 65% new Oregon oak. Drink through 2032. Limited Quantity.
Calcagno Cellars
Our passion is creating boutique wines that reflect the romance of New World terroir, Old World tradition, and the heritage of our Italian family. Esteemed Winemaker Rolando Herrera shepherds authentic methods using the finest Pacific Northwest grapes in crafting our limited release artisan wine. Our family farming culture has grown a rich tradition of responsibility, even before modern sustainability was the trend. With gratitude, we share this union of old and new and invite you to our table to enjoy a wine experience with us. We're confident you'll agree, Every Sip is Special. Saluté!
Discover More