Buy A Case Of Six Wines & Get Free Delivery!
Add 6 more bottles for FREE shipping!
Your case: 0/6 Bottles | Add 6 more bottles for FREE shipping!


To celebrate Valentine's Day, we thought we'd highlight some of the couple-owned wineries that we partner with here at CellarStash. Running and owning a winery is no easy task, but the love between each of these couples really shows in the beautiful wines that they produce.
To send you a little extra love, we are giving you 15% off ANY of the wines from these amazing wineries.
OUR COUPLE-OWNED WINERY PARTNERS:
DOS LAGOS VINEYARDS
Marcie & Tom Dinkel
Tom and Marcie Dinkel have been married for 27 years. On one of their first dates, the couple visited the Hess Collection and winery. They were inspired by the multi-media presentation about the vineyards, the process of grape growing, and seasonal changes. They were passionate about making this a part of their lives and set the goal to own a vineyard on the spot. The quality of the Cabernet Sauvignon vines at Atlas Peak enabled this dream to be realized.
The beauty of the property at Dos Lagos (two lakes) is stunning. They have owned the vineyards for 15 years now. Both have a deep connection with the vineyards, lakes, and the birds and animals that share this magical 22-acre property. They both love the relationships they enjoy with their clients/friends throughout the years.
Tom loves to cook, and he and Marcie have contributed food and wine videos and articles for the Napa Valley Life Magazine online.
Former top cover model in Paris, Marcie is an artist. She creates art for all of the Dos Lagos Vineyards labels: Cabernet Sauvignon, the new Cabernet blend, and the Sauvignon Blanc. Marcie paints with Acrylics on canvas, then photographs the paintings.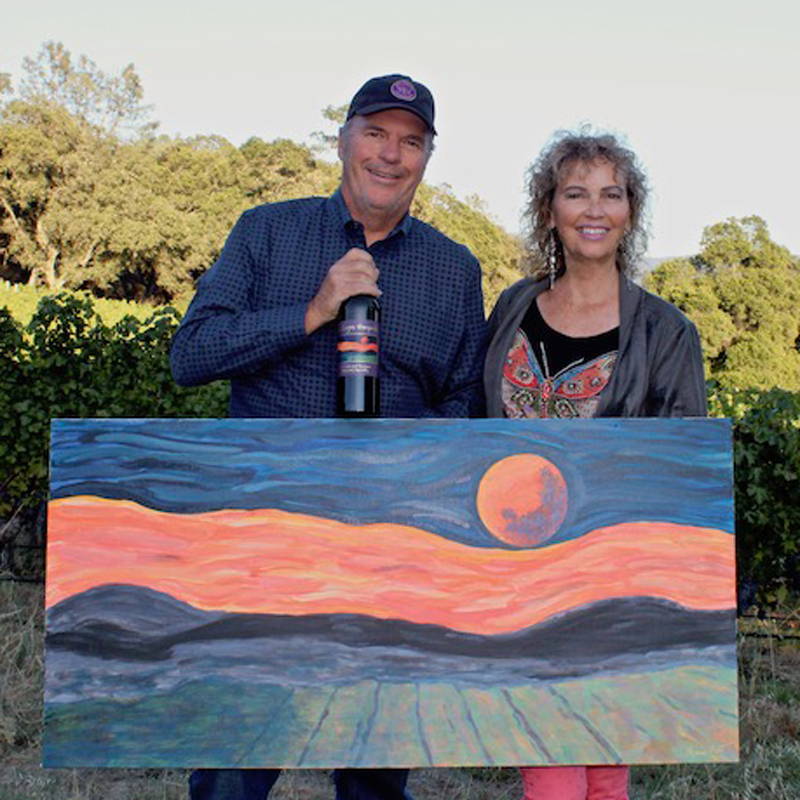 Fore Family Vineyards
Diane & Jim Fore
We have been married for almost 40 years but when we first met, we were really into wine. We attended some wine tasting events here in Napa and found that we really enjoyed it.
Grape growing and winemaking is a second career for both of us. I am a retired Kindergarten teacher and Jim worked as a piping designer at Mare Island Shipyard which closed in 1995. He also was a home winemaker using the small vineyard in our backyard as its source.
The inception of Fore Family Vineyards started with a surprise, an opportunity, and a moment of brief insanity. When Jim lost his job, he needed to consider another career at that point and partnered up with Doug Hill of Hill Family Estates. Jim came home one day and said, "Honey, we are going to be farmers!" I, of course, responded "Farm what?" Shortly after, we leased property in the Napa Valley but wanted to acquire our own property. In 2000, we purchased 100 acres on Cobb Mountain in Lake County where we grow Cabernet Sauvignon, Zinfandel, Syrah, Grenache Blanc, Grenache Noir, and Mourvedre. We sell the majority of what we grow to other wineries. Our son joined us in 2015 and in 2016 we opened a tasting room in Kelseyville, not far from our Cobb Mountain Vineyard.
Diane Fore
ANTHEM WINERY
Julie & Justin Arbuckle
Julie and Justin met in 1990 while they both were attending the University of California at Berkeley. When they first visited Napa Valley in 1996, before they were married, they quickly fell in love with the natural beauty of the land and vineyards, and the amazing experiences, food, wine the Valley offers. After they were married in '99, Julie and Justin honey-mooned in Napa Valley, staying at the Silverado Resort and splurging one night at Auberge du Soleil. By 2005, they were spending so much time in Napa that they decided to search for a home and vineyard there while expecting their first child. They soon zeroed in on Mt. Veeder given its ability to produce some of the best wines they'd ever tasted. After finding a property at just 400 feet elevation (which fortunately came with a Merlot vineyard, an approved erosion control plan, and a winery use permit), they planted additional vineyard blocks and embarked on starting Anthem Winery. Julie and Justin have grown Anthem Winery since its inaugural 2009 vintage, always increasing its sustainability along the way. Justin and Julie hope to build a Napa Green winery and tasting room adjacent to their vineyards in the near future.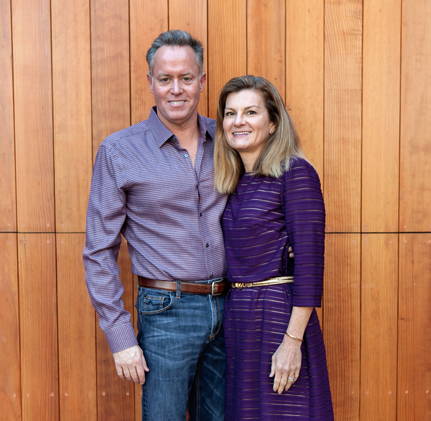 Hard Six Cellars
Kara & Wayne Fingerman
Kara and Wayne met in Central Park through their dogs Bella and Ty (the physical embodiment of the Meanmouth!). Not long afterward, they moved west to pursue their passion for wine. And so it evolved….
Today, Hard Six Cellars is fueled by a vision of winemaking that puts the land first. Jess, Keisha & Maya are often also present, earning us the nickname "Los Lobos" amongst the vineyard workers.
Kara and Wayne have a mutual appreciation for abstract and "outsider" art. The works chosen for the Hard Six labels have enormous depth and are extremely evocative, risky, and captivating in nature. It is our hope that our wines will resonate with you in the same way.
There's risk involved in choosing vineyards that are more challenging, but that's what Hard Six connotes - a high risk, high reward proposition. We're passionate believers in our efforts. Sometimes this means a passionate debate or two along the way...but always over a glass of wine, of course.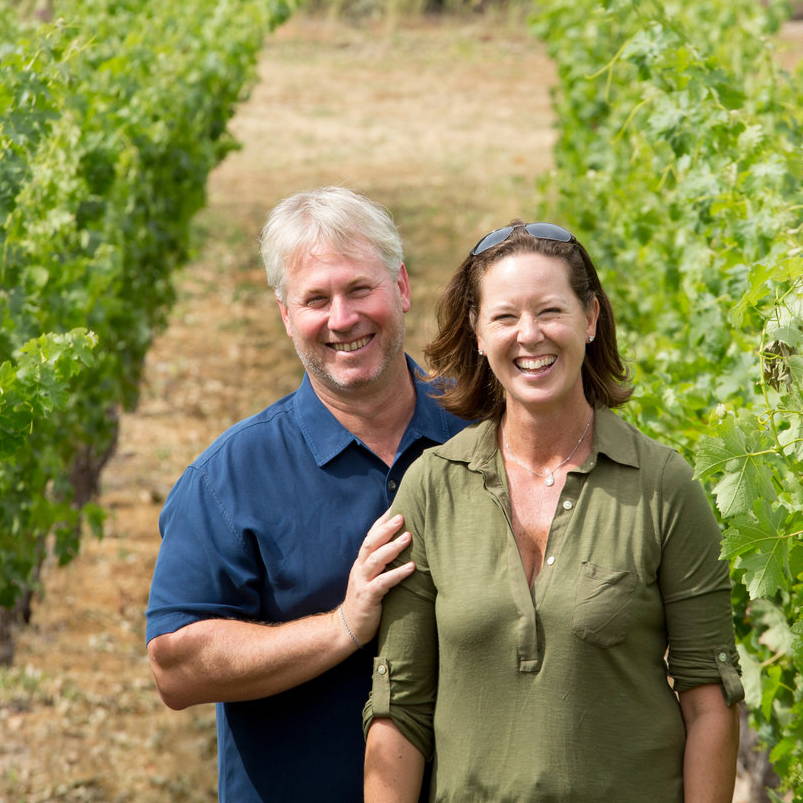 JUICY REBOUND
Douglas & Mary Danielak
Our wine journey together is an example of how love can be shared over decades with a shared passion. We understand that our wine life as small vintners requires patience, dedication, and understanding each and every day. Being tied to the land, and vintages, we have to share life's highlights and challenges in equal measure.
We met due to a set of completely serendipitous events. We first met and became friends while working at a fine dining restaurant. As I was moving between apartments, I came across a magnum of 1973 Ledoyen Champagne, a special cuvée made for the famous Restaurant Ledoyen in Paris. I did not have many friends and colleagues who appreciated fine wine as Mary did, so I offered to share the bottle with her. We have been together since that night for the last 37 years and that moment of sparkle has never left us.
To her credit, Mary saved the empty bottle through several moves back and forth from France and California. We can think of no other way to celebrate our wine life together. In our winemaking life, we come across vineyards and wines that are too good to ignore, so we give them a second chance or a "Juicy Rebound".
-Douglas Danielak