Buy A Case Of Six Wines & Get Free Delivery!
Add 6 more bottles for FREE shipping!
Your case: 0/6 Bottles | Add 6 more bottles for FREE shipping!

Roll over image to zoom in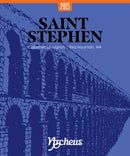 Description
Archeus St. Stephen Cabernet Sauvignon 2015
Classic concentrated dark Cabernet fruit on the nose. The palate is accented with graphite, cassis and black licorice. The wine displays richness, depth and persistence.
Beverage Tasting Institute:  93 pts
"Ruby black color. Aromas and flavors of toasted marshmallow, chocolate hazelnut and pistachio toffees, hint of crayon, and olive and pepper relish with a vibrant, dry-yet-fruity medium body and a medium-length finish with elements of honeyed dried berries and spiced nuts with chewy, earthy tannins and light oak flavor. A snappy, lively cabernet for all occasions."
Washing Tasting Room:  Editor's Choice – Outstanding (91-94 pts.)
This rich and well-sculpted Cabernet is powerful and expressive of the appellation, welling with muscular tannins and generous depth. Aged 22 months in French oak, the palate offers concentrated flavors of cassis, blackberry and loamy earth deftly layered with cocoa, fennel, dustry sage and notes of black olive. Elegant, yet bold, this red wine holds its focus through the extended aftertaste.