Buy A Case Of Six Wines & Get Free Delivery!
Add 6 more bottles for FREE shipping!
Your case: 0/6 Bottles | Add 6 more bottles for FREE shipping!

Roll over image to zoom in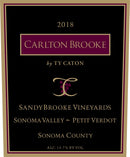 Description
Ty Caton Vineyards Estate Carlton Brooke Petit Verdot 2018
The ninth vintage from Ty's parents' small vineyard behind their house yields a wine that expresses fruit flavors of black cherries with hints of lavender and crème de mint.  Sweet overtones of caramel dominate the oak impression and are followed by silky and seductive tannins.
Story: "Each year I make unique wines to honor my parents, Carlton Brooke and Sandy Caton.  The special label on this wine is my way of saying thank you for all they have done in my life to help me become the person I am.  My promise to them is to pursue our shared goal of actively seeking excellence." – Ty Caton
Ty Caton Vineyards
At Ty Caton Vineyards, our commitment to excellence begins in the Caton Vineyard where winemaker Ty Caton sustainably farms the hillside fruit used in his Moon Mountain District wine. As one of the few exclusively estate producers in Sonoma Valley, Ty works with the grapes from soil to glass enabling him to make extraordinary wines that showcase the vineyard.
Discover More